Rome to Loreto (12 Days in Italia, pt. III)
I'm hopefully going back to Rome in a few weeks (when I finally get my visa) to join the Canonization of Pope John Paul II and Pope John XXIII. Both made such an impact to the Catholic Church which is why they're both dear to me, Pope John Paul II especially. Since I'll be able to see the beautiful country of Italy again, I thought I should finish uploading some backlogs from my Italy trip a year ago. This post contains a lot of photos. I felt like cutting them down but remembered how great this day was. I'd like to remember as much as I can. Plus, I don't know a lot of people who've been to Loreto. The journey to that beautiful, beautiful hill town was one of the highlights of my trip. And I'd like to share my experience with you all. Please enjoy the photos under the cut. 🙂 — It was March 23, 2013, a day before the start of Holy Week!
We started our day early to catch the tram leading to Sant'Eugenio to hear mass with the Prelate of Opus Dei. (If you're wondering why I was in the company of Opus Dei on this trip, check out my past entry: MNL – Dubai – Rome // 12 Days in Italia [Pt. I])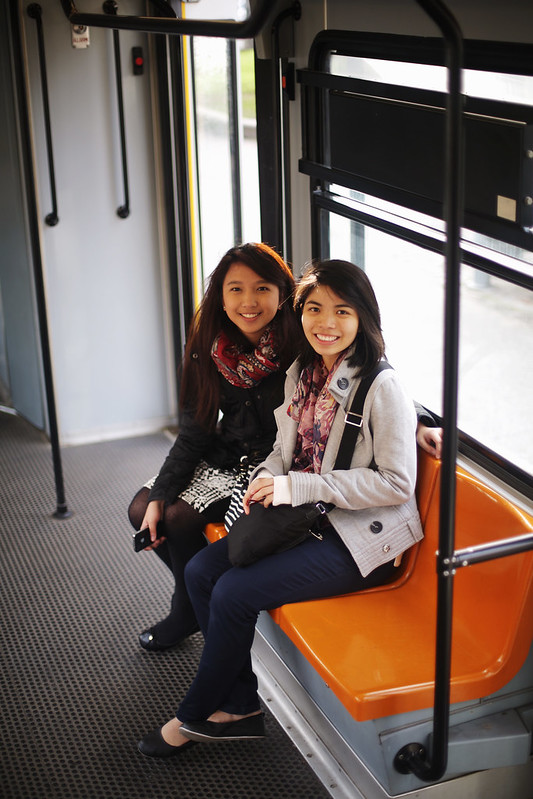 Interior of Sant'Eugenio, a church built by Pope Pius XII.
Apparently we were too early. We took the chance to familiarize ourselves with the area, as this church will become our sort of 'home base' throughout the Holy Week. Interestingly, the church has a nice football field for the local FCs.
It was nice to walk around the area and occasionally meet nice Italians in the streets.
We went up this road that provided a pretty view of the church and the field!
It was also a residential area, which explains how peaceful and easygoing the neighborhood felt.
Via Flaminia, the road that led to our home in Rome. I will never forget that road!
We ended up wandering around Ponte del Risorgimento, a bridge that crosses over the Fiume Tevere river (thank you Google Maps, for that information hahaha).
We left after many photo ops because there was a tv shooting.
What I absolutely love about Europe is its walking and cycling culture. Wide sidewalks, actual cycling paths, beautiful scenery. Ahh.
Then it was time to hear mass.
Bishop Javier Echevarría, current Prelate of Opus Dei.
After the beautiful mass, we head off to Loreto! This is Ms. Doojie, former professor in my university who is now living in Rome for further studies, leading the way to our hotel where we board a bus to Loreto!
We Filipinos aren't accustomed to the cold. But we also tend to exaggerate. Hehe.
The trip to Loreto took us hours and hours on the road. We left right before lunch time and was worried that we won't be able to get to Loreto in time because the sun was setting lower and lower as we went farther through the Italian highways.
Impatience wasn't a problem. The sceneries we passed by kept us glued to the glass windows of the bus.
Can you believe we passed by this?! I can't imagine passing by such a rustic town while on a highway! Here in the Philippines, I'm so used to seeing never ending horizons of rice fields. It was so refreshing to see such diverse sceneries.
We passed through many mountains
The towns look so tiny compared to the gigantic monuments of mother nature
It was a sight I will never forget.
My first time seeing snowcapped mountains! Breathtaking.
Soon the icy mountains were replaced warm colored hills and vibrant shrubberies
A view of the sea surprised us! Have we really traveled that far to be at the coast of Italy? Haha the wonders of great infrastructure
And there it is. Our first sight of Loreto and with a magnificent sunset as its backdrop. What a way to welcome us.
The Shrine of the Holy House is so beautiful. A fitting church to safely enclose the house in which Mother Mary lived and where Jesus was raised.
And here we are, re-enacting a not so pleasant-looking statue. Haha
  Here is Pope Sixtus V, an important figure in the Counter-Reformation. And I know that because of my history classes in university. Hehe. They were real handy throughout my stay in Italy and I was playing a little mind game by myself called "What in the heavens did that Pope do?!" heh. Nerdy, I know. But seeing history in the form of monumental legacies made the nerd inside me gushhh
In the middle you will find the Holy House.
Inside the marble building are the interiors of the Holy House (including the walls and the black cedar image of the Virgin and Child). We couldn't take pictures in it. But the feeling you get during and after praying in the Holy House is incredible.
Still beautiful at night.
Last year I was fascinated with these dainty cafés found all over Italy (though I still prefer the simple, no-frills coffee bars) but not so much now. Maybe because of the emergence of artisan cafés in Manila that serve gourmet coffee and design their interiors to look a bit more European, but pretentiously. Heh.
  The Loreto environment felt so simple and peaceful. There were a number of tiny shops and family-owned restaurants that seemed to have aged well. The food was just fantastic and fairly priced, too! But what made the whole town more charming was the people. I vividly remember this moment, at the restaurant, when everyone–and I mean the waitresses, the other diners, and us–looked up at the TV and squealed in delight when a short news report about Papa Francesco was shown. This was when Pope Francis was only a few weeks into his papacy. We were all very excited about the future of Christianity. After that brief news report though, everyone looked at each other and smiled humorously. Though we were strangers, we felt like we were related. We had a connection, united under one Church. It was as if the Church and its people were awakened, given a boost of vitality. I'll never forget how that simple yet blissful moment felt.
There were a lot of elderly. Quite natural since it's a small hilltown so probably the kids would go into the cities or bigger towns for education.
But lo and behold! To my surprise there was a procession! Probably to prepare for Palm Sunday the next day. And look! So many young people! It was wonderful to see people of different ages coming together to uphold tradition.
After witnessing the procession and some photo ops around the town, we went back home to Rome. It was a short but sweet stay. I just loved that town so much. I love the authenticity and the warmth the whole town radiates.
Even if it was freeeeeezing for us tropical tourists/pilgrims.